This Month's Show
Brother Sun
with special guest
Efrat
June 11, 2016
8 pm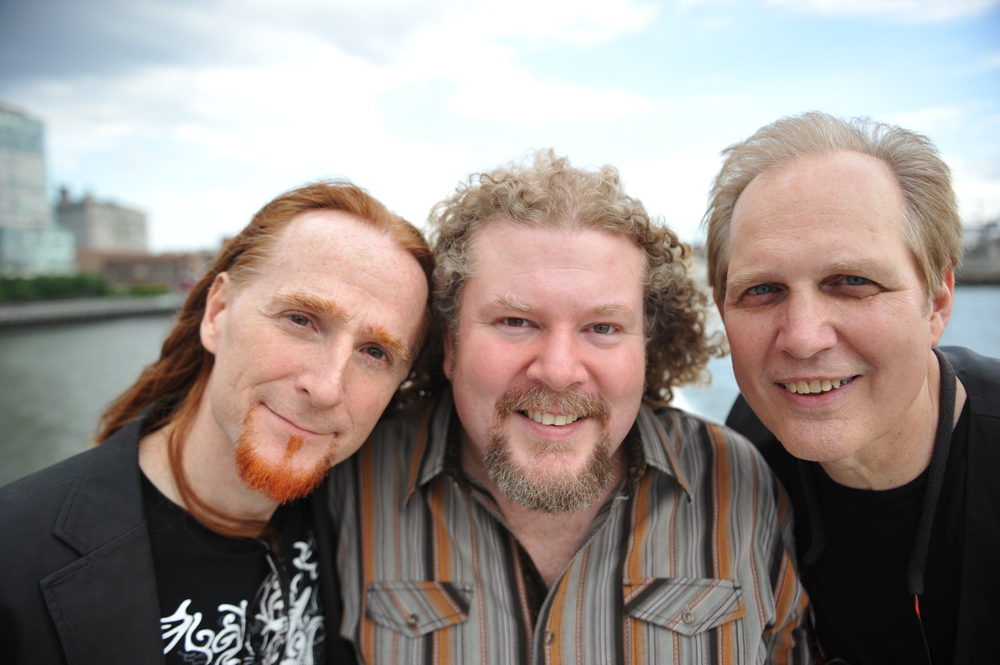 National Touring Artists Greg Greenway, Pat Wictor, and Joe Jencks have made their mark as veteran touring singer-songwriters, but Brother Sun is no songwriter's round. The trio's harmonies, as much as their lyrics, tell what they are about: warm as a campfire, stirring as a gospel church, rousing as a call to arms. Fusing folk, Americana, blues, pop, jazz, rock, and a cappella singing, Brother Sun is an explosion of musical diversity and harmony, in the finest of male singing traditions.

From three major points on the map Boston, New York, and Chicago - Greg, Pat, and Joe have blended themselves into Brother Sun: a unique celebration of the amazing power of singing together. As they will tell you, the music of Brother Sun is not resident in any one of them Ė but rather it exists in the space between them. Audiences feel this sincerity immediately. Their combined musical skills make for an unforgettable experience - three rich voices blending on a well-crafted foundation of guitar, slide guitar, piano, ukulele, and bouzouki. Their performances are marked by outstanding original songs, ethereal harmonies, off-the-cuff humor, and standing ovations.

Appearances at festivals like Falcon Ridge, Kerrville, Old Songs, Vancouver Island, and a summer 2016 appearance at Mariposa attest that Brother Sun is regarded as a must-see live act. Brother Sunís music and message appeal to mainstream listeners and dedicated folkies alike, to people of widely divergent spiritual and political leanings, and fans of both contemporary and traditional music. They offer the hope of people uniting to create beauty in uncertain and unsettled times.
Our opening act is Efrat. She is the consummate musician. A classically-trained violinist, she's comfortable in multiple genres, from jazz to A
mericana . At one time a member of Spuyten Duyvil, she now fronts her own group, showcasing her talents as a singer, songwriter, and performer.
Efrat is the consummate musician. A classically-trained violinist, she's comfortable in multiple genres, from jazz to Americana. At one time a member of Spuyten Duyvil, she now fronts her own group, showcasing her talents as a singer, songwriter, and performer. - See more at: http://www.wfuv.org/content/efrat-and-mara-levine-2016#sthash.eKe4Dhg5.dpuf
Efrat is the consummate musician. A classically-trained violinist, she's comfortable in multiple genres, from jazz to Americana. At one time a member of Spuyten Duyvil, she now fronts her own group, showcasing her talents as a singer, songwriter, and performer. - See more at: http://www.wfuv.org/content/efrat-and-mara-levine-2016#sthash.ln2Sh21m.dpuf
Efrat is the consummate musician. A classically-trained violinist, she's comfortable in multiple genres, from jazz to Americana. At one time a member of Spuyten Duyvil, she now fronts her own group, showcasing her talents as a singer, songwriter, and performer. - See more at: http://www.wfuv.org/content/efrat-and-mara-levine-2016#sthash.ln2Sh21m.dpuf