NEXT AT THE HURDY GURDY
March 4, 2017
8 pm
Ellis Paul is a gifted singer-songwriter and astute storyteller whose songs move from personal experiences to expressing universal feelings and sensibilities. Considered a storyteller as wel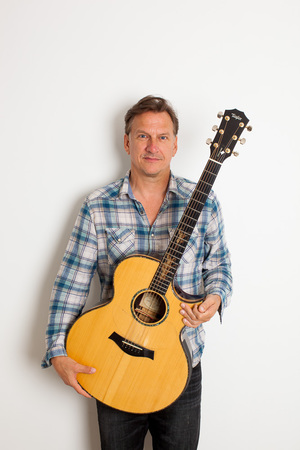 l as a musician, he has been telling his tales in words and music for more than 25 years. He has 19 albums to his credit, 15 Boston Music Awards and numerous other honors, including an honorary degree from the University of Maine. His music has been included in several movie soundtracks, and he travels across the country doing 200 shows a year.

Born in Fort Kent, Maine, near the Canadian border, Paul comes from humble origins. His family counts among their ancestors a veteran of the Battle of Gettysburg, whose reward for heroism was 140 acres of Maine farmland. The potato farm taught Paul hard work, determination and self-reliance. Athletic as a boy, he became a runner and star competitor, traveling across the nation to compete. "I was lucky to be able to see places I once could only dream of, " he recalls.. He began to write, play trumpet and sing in the school choir. He attended Boston College on a track scholarship.

While recuperating from a knee injury that sidelined his athletic activity for a year, Paul learned to play guitar and write his own songs. After graduation, while working as a teacher and social worker with inner city children during the day, he pursued Boston's music scene at night. He gained prominence in local coffeehouses, won a Boston Underground Songwriting competition and placement on a Windham Hill Records singer/songwriter compilation. His big break came when he was asked to open for Bill Morrissey, a prominent New England folk artist. "Paul has a sense of roots, of connectedness to the whole history of folk music; he sees the thread that runs through all the generations of this music, " Morrissey said.

Over the years, Paul has been drawn to the music of Woody Guthrie with its social consciousness humanitarian sensitivities. His commitment to Guthrie's legacy led to his inclusion in a 10-day celebration of Woody's life at the Rock and Roll Hall of Fame and his appearance as a headliner at the Woody Guthrie Festival in Okemah, Oklahoma, Woody's home. This festival is now a part of Paul's annual touring schedule, and he has been named an honorary citizen of Okemah. He also participates in the "Ribbon of Highway" tour produced by Woody's daughter, Nora Guthrie, who invited him to put one of her father's poems to music.

"In times like these, when so many nuts are running the show, it's comforting to know that Ellis Paul is actually holding our sanity on his own stage! Wise, tender, brilliant and biting, Ellis is one of our best human compasses, marking in melodies and poems where we've been and where we might go if we so choose," she said.

Paul's music has reached a wide audience through its use in documentaries, TV shows, commercials, and the sound tracts of several films, including "Hall Pass," "Me, Myself and Irene," and "Shallow Hal." He has also made a film and DVD, entitled "3000 Miles," that is a part concert, part documentary and part instructional video. He has released two children's albums, earning him honors from the Parent's Choice Foundation. The most recent, "The Hero in You" has been turned into a picture book. His book of poetry and short stories, "Notes from the Road," has had three pressings.
Chelsea Berry's beautiful voice and commanding stage presence blend to create a compelling performance that draws the audience into her world. She has traveled across the U.S. as a solo performer and with Livingston Taylor. He describes her voice as having "remarkable power and control." Born and raised in Alaska, she now makes her home on Boston's North Shore. She released her most recent CD, "Remedy" in 2014.